After all of the negative posts, press, photos, social media, flyers, riots…..I can't stand it any more.  There is still so much good out there, laying in wait, hoping it feels safe enough to come out and be the captain of the ship in this swelling sea of anger.  But I didn't want to wait for that to happen.  I needed positive energy back in my life….so I took the helm of the tiny ship I knew I could control and pointed it towards the water I knew would be still and serene.
My crazy eleventh grade teacher used to ramble on about something to do with the law of cause and effect, you get back what you give.  I prefer its more poetic version "the ethic of reciprocity".  Either way, both ideas embody the notion that you do get what you give.  Doing unto others is not just a lesson we learn as a child.  Doing unto others should be stamped into our DNA.  Doing unto others should be as commonplace as breathing.  But sadly, it's not.
I have been so eager to use my time in the best way possible, to make a difference to those who may need a hand during the months that our small town economy hibernates.  Too many families who thrive in the summer feel the pinch as they stretch their Employment Insurance dollars to attempt to fill the space where their full paycheques used to reside.  It is a sad reality, but a reality nonetheless.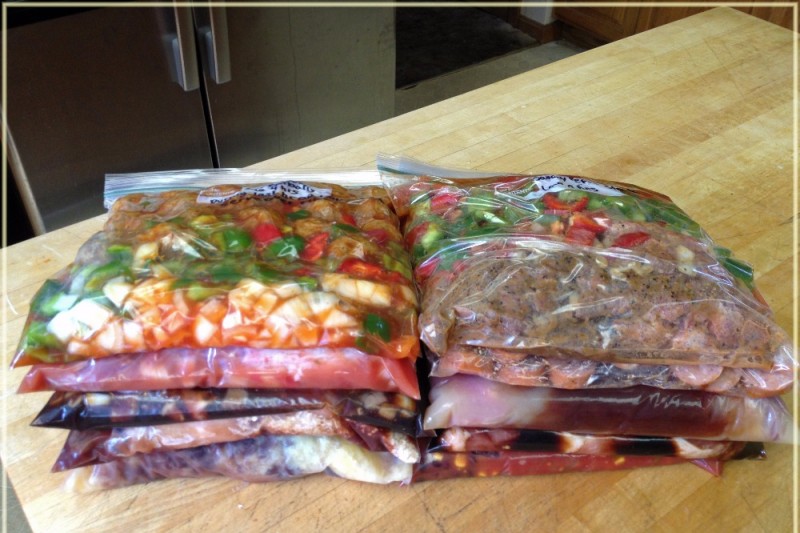 I haven't coined the proper name yet, the words elude me, but the idea is a good one and today I learned that many others understand what I am trying to do and support my idea.  I want to continue making Crockpot Freezer meals for families who could use a hand.  By providing them with what is basically a home-cooked meal, I'm hoping they feel the support of their community.   And that community, and even the communities outside of our tiny geographical location, spoke loud and clear that they are on board.  In less than 24 hours of posting a Go Fund Me account, I received $1,000.00 in donations which will make about 6o meals, 60  meals made with chicken, beef, pork, potatoes and vegetables, that will serve 4 to 5 people each and allow for leftovers.
In the angry sea I noticed a tiny light on the shore and, as I got closer, I realized there was an army on that shore.  And when this angry storm finally settles, I hope everyone is able to see that light and know that their army is waiting.